I chose to take over the house I now own in Murrumbeena. Allow me to explain. Several human years ago I lived on the other side of the street with a lady as my staff. This lady decided to move a few blocks away, but as I preferred living in the original area I kept coming back to my old stamping ground. The lady tried taking me back to her new house but it was all in vain, as my mind was made up. In the end she simply gave up, and asked my current staff if they would look after me. What a joke, as if I need looking after. Anyway. that's how I gate crashed the house I now own.
---
I have a few weaknesses. One of these weaknesses relates to my love of munching on a fresh, warm rat's head. nothing beats that lovely crunchy, tasty, wholesome experience that is a rodent cranium. Yummo!
---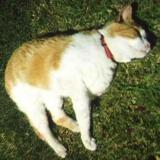 preparing for a hard night on the tiles
---

this is how
I see myself
---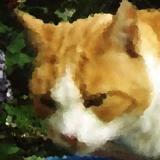 I'm such a good looking pussy cat!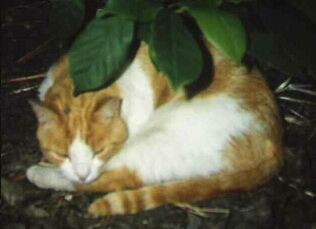 ---
The picture of me (above) was taken by the large hairy human. He wouldn't bloody leave me alone. Geez it's hard to get some peace and quite around here. I thought I'd found the most purrfect hiding place (in the overgrown jungle the humans call their 'front garden'), but the hairy moron found me! Actually the photo depicts me getting ready to leap on a wayward rat that I spied out of the corner of my eye. I was salivating with the prospect of a lovely crunchy rat's head in my mouth until boof-head crashed my party.
---
I spend most of my time outside the house. I don't like going inside, and this has led to some rather derogatory comments from my staff. What a cheek! They say stuff like 'Nelson is feral' and they think I don't understand their stupid and simple language. Just because I hardly ever go inside my house doesn't mean I'm feral! I just happen to think they are a bunch of dick-heads, but I suppose they're not too bad for humans. The larger, hairy looking human talks to me in a high baby like voice. He must think I'm stupid or something. I can understand English purrfectly. I've heard him telling the smaller humans that he is speaking to me in a meowing cat voice that I can understand. What an absolute moron. He also calls me by some baby type names such as Nelly-Belly and Nell-Bell and Nelson the Belson and Smelly or Smelly Nellie or Smell Bell or just Smell. What a loony. Fair dinkum, someone should come and throw a net over him. I pretend I like the humans, but to be honest I barely tolerate them. When they feed me I rub up against them to give them a cheap thrill. Nearly makes me puke though as the smell of humans (in general) is quite repulsive. I don't think these particular humans wash at all as I never see them licking themselves. I thought I once saw the large hairy one licking the slightly smaller one's face, but I'm pretty sure I was hallucinating. I probably overdosed on grass that day. We cats eat grass sometimes, as it contains a mind-altering substance called chlorophyll or something. Humans think we eat grass as a medicine. Yeah right, medicine; what a bunch of dildos.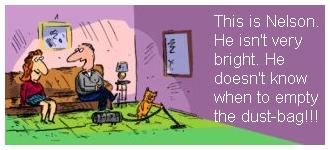 In case you don't know, a cat is a small carnivorous mammal (felis catus or f. domesticus) domesticated since early times as a catcher of rats and mice and as a pet and existing in several distinctive breeds and varieties. A cat is any of various other carnivorous mammals of the family felidae, which includes the lion, tiger, leopard, and lynx.
---
Something else I like to do is intimidate the cat who owns the house next door. His human staff call him Tiger but his real name is 'xxxsphht'. Anyway, he's really shit scared of me and I get my jollies by sitting about a metre away from him and giving him the evil eye. Poor bugger doesn't know what to do. He usually just cries like a very small human and twitches his tail. Geez it makes me laugh ( a cat's laugh is inaudible to human hearing I believe).
---

the enemy
---

plain-label again!
---

hello breakfast
---